Künzi Hess MacNab Rechtsanwälte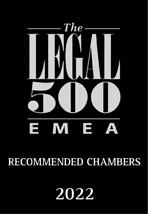 Künzi Hess MacNab is a partner-only boutique law firm that specialises in advising banks and financial service providers on regulations and civil and supervisory law. The 'highly competent and experienced' Martin Hess and My Chau Bachelard who both joined from Wenger Vieli Ltd in late 2020, make up the 'very efficient team'. The duo's expertise includes e-payment solutions, e-money, digital assets and crypto currencies.
Other key lawyers:
Martin Hess; My Chau Bachelard

The guide to the world's leading financial and corporate law firms.
Chambers
2021, 2022, 2023 Fintech Top Ranked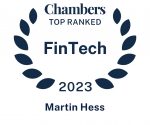 Who is Who Legal
Global Leader
Banking – Finance 2023,
Banking – Regulatory 2023,
Blockchain 2021, 2022, 2023,
Fintech & Blockchain – Fintech 2021, 2022, 2023
National Leader
Switzerland – Banking 2022, 2021